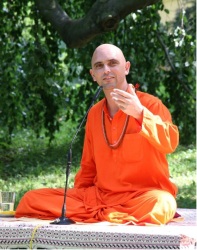 Yoga in Daily Life Australia is honoured to host Mahamandaleshwar Swami Jasraj Puri, a contemporary leading light of the Yoga in Daily Life tradition. Swami Jasraj is a long time disciple of His Holiness Vishwaguruji Mahamandaleshwar Paramhans Sri Swami Maheshwarananda Puri the founder of Yoga in Daily Life.
Swami Jasraj has been living in India since 1996 and was awarded one of the highest spiritual title's of Mahamandaleshwar (scholarly saint) of the Mahanirvani Akhara in 2010. During his time in India, Swami Jasraj has managed the Yoga in Daily Life ashram in Rajasthan which includes a school or 1500 pupils, a hospital, an animal shelter and a research centre. More recently he has been living and studying in the Himalayas.
He has devoted his life to social service and the study of the practical and philosophical aspects of Yoga. He speaks fluent Hindu and is studying Sanskrit.
Swami Jasraj is a highly respected and inspiring yogi whose immersion in the authentic yogic practices and life in India has contributed to his deep insight and experiences. With his western background we have the unique opportunity to learn from someone who can offer us these valuable ancient teachings in a modern and relevant context in a clear, down to earth manner.