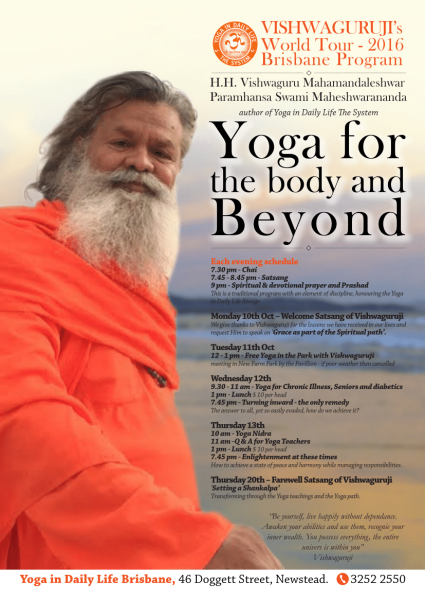 We are pleased to announce the program for Vishwaguruji's World Tour 2016 visit to Brisbane this October!



Yoga in Daily Life is an authentic yoga tradition, presented in a way that is accessible to people of all ages and abilities in modern societies. We are honoured to host His Holiness Vishwaguru Mahamandaleshwar Paramhans Sri Swami Maheshwarananda Puri, author of Yoga In Daily Life The System, here in our Brisbane ashram from 10th until 13th October.
We invite you to join us for a range of programs offered throughout the week under the theme of "Yoga for the body and beyond".
Satsang each evening (10th until 13th October) from 7:45 (entry open from 7:30) - free for everyone
Free Yoga in New Farm Park - 11th October from 12pm until 1pm (weather permitting)
Yoga for chronic illness, seniors and diabetics - Wednesday 12th October from 9:30am - 11am
Yoga Nidra - Thursday 13th 10am - 11am
Q&A Session for Yoga teachers - Thursday 13th from 11am - 12pm. Open to teachers from all yoga practices and traditions.
Lunch at the ashram - 1pm on Wednesday 12th and Thursday 13th
Follow us on Facebook for updates or check our website regularly for more details on these and other upcoming programs.
"Be yourself, live happily and wisely, without dependance. Awaken your abilities and use them, recognise your inner wealth, you possess everything, the entire universe is within you"