It is greatly heartbreaking to see the destruction caused by TC Winston, and the livelihoods of so many people in the Fiji islands laid (temporarily) to waste. For anyone who has ever visited this beautiful island nation it's the warmth of the people and their hospitality that remain forever etched in our hearts.

It's now our turn to show warmth and humility, in the true spirit of Yoga and the adage 'Vasudev Kutumbukan - the whole world is one family' - we are inviting you to join us in supporting those in need. As we extend our arms, albeit in small ways we open the door of our hearts which enriches our lives, these are the moments we are called to help.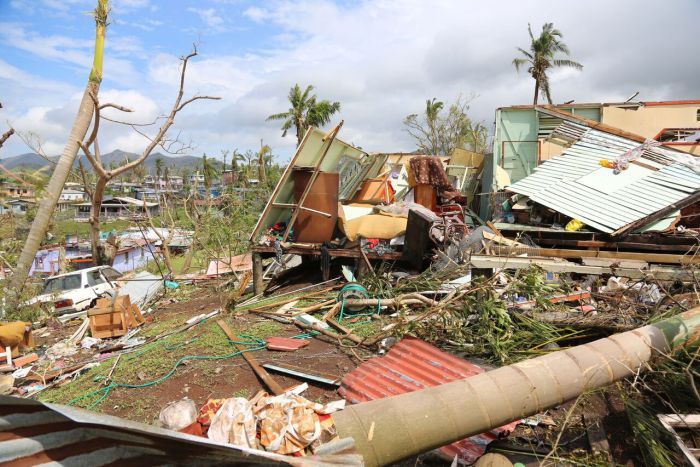 Over the next week Yoga in Daily Life Brisbane will be collecting donations that will be sent to 'Red Cross' and the 'Fiji Sevashram Sangha' - a charitable non-profit relief organisations who is directly assisting by supplying food and water sanitation, along with building materials to the badly effected areas of Fiji.
We invite you to join us in raising as much as possible over the next few weeks to send to Fiji, you can help us by paying doubler for your class or by making a donation for Fiji to:
Yoga in Daily Life Australia
bsb: 014 245
acc: 1965 136 67
We have carefully selected these charitable organisations who are directly involved in on-ground relief efforts, and will keep all informed of the progress and outcome.
ABOUT Cyclone Winston
Cyclone Winston was the strongest tropical cyclone ever to hit Fiji. It left a trail of devastation with more than 40 people confirmed dead, hundreds of homes destroyed and over 8,000 people sheltering in evacuation centres. The outer islands bore the worst brunt, with reports of villages where 90 per cent of homes are damaged or destroyed.
Emergency teams are headed to the worst-affected areas in Fiji to conduct assessments and distribute relief supplies, while volunteers are helping people in evacuation centres. Relief supplies for 2,200 families are ready to be distributed.