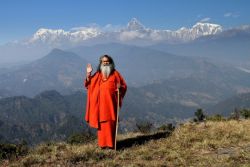 At Yoga in Daily Life, we have been saddened and shocked by the news of the recent earthquake in Nepal. The impact has been devastating and far-reaching. Millions of people are now homeless and thousands have died or been injured. Many are still missing. Here is a link to some of the latest information to give an idea of the devastation affecting Nepal.
http://www.bbc.co.uk/news/world-asia-32492232
At Yoga in Daily Life we join governments and charities throughout Australia and the world in supporting the relief efforts for the devastating Nepal earthquake. The Australian Government has pledged an initial $5 million. India has sent tonnes of medical aid, food, water and resources to those who are left homeless, stranded and wounded.
Vishwaguruji has called for our support. Your contribution may seem small, when compared with governments, who are able to give millions, even billions in relief. But what can we do? Whatever you can give is enough. But for us it's simply a matter of knowing, that when the world needs it, we are here to help.

Australian Association of Yoga in Daily Life
Bsb: 012205
Acc: 489776161
reference: Nepal Relief
Please send, even a small amount, you can never imagine the difference we can make 'together'.